The collection of articles on WiFi and Mobile technology on the How Stuff Works? website, though dated, provide some insight into the technology that paved the way for the sophisticated mobile technology that exists today.
Today, when one hears the phrase mobile networks thoughts immediately go to which network one is connected with and how strong that network is. Mobile companies promote their services by promising to have the fastest or the largest network. Verizon uses a series of commercials in which they ask customers to look at network coverage maps in order to show that their network provides more coverage.
[youtube=http://www.youtube.com/watch?v=gFUUybc_M40&w=560&h=315]
Commercials, like these, only provide a glimpse into mobile/cellular networks because consumers are concerned with where they will be able to receive cell service and what the quality of that service will be. Mobile networks also known as cellular networks are wireless networks that utilize cellular radio towers to transmit frequencies. The image shows how the land area is separated into cells. the cells are serviced by different base stations, antennae, and transmissions.  This image shows how complex the cellular network is. There is a lot of infrastructure behind the scenes.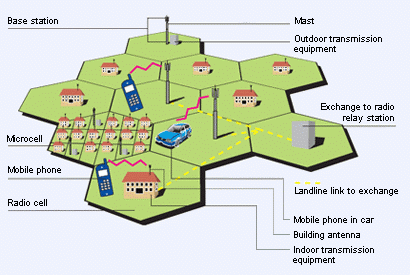 This cellular technology is what enabled programs like Google Maps to get directions and provide the location of the nearest coffeeshop, hotel, movie theather, or whatever is needed.
Google associates information such as anonymous GPS readings with the cells to create a database of cell locations. Then various algorithms are applied to approximate a Blackberry user's location related to the nearest cells. The more mobile towers and cells in the area, the more accurate the estimation of your location will be. Google expects accuracy to be within 1,000 meters, or 3,280 feet. (Dannenfeldt).
Behind the colorful maps, there is a lot of technology at work to ensure that users are able to surf the web quickly.  In "How WAP Works," Jeff Tyson provides an overview of how mobile devices are able to access the Internet on the go. According to Tyson, " probably the most important factor in the birth of wireless Internet has been the proliferation of digital cell phones in the last few years."  In order to ensure a successful wireless Internet, "Nokia, Motorola, Ericsson, and Phone.com came together to create the WAP." WAP stands for Wireless Application Protocol.
At the time of this article's publication in 2000, "Making a web site accessible through a wireless device [was] quite a challenge…only a small portion of the more than a billion Web sites provided any wireless Internet content." This is much different than today when most websites have a mobile version to make their websites more accessible to mobile device users.
Some wireless services that work with WAP are:
Short Message Service (SMS), also known as text messaging
High-Speed Circuit-Switched Data (CSD), which is 4 times faster than the standard data rates
General Packet Radio Service (GPRS), which provides data rates from 56 to 114 kpbs
Unstructured Supplementary Services Data (USSD), which is used to send text between mobile phone and application program in the network
Mobile devices utilize WAP for "transfer speed," "size and readability," and "navigation." Because a typical device can transfer data at higher kbps, has larger display, and uses a mouse, WAP provides a workaround for wireless devices. Today, there are a variety of WAP enabled devices. Many people have smartphones, tablets,  notebooks/laptops, and netbooks (small notebooks). Prior to this proliferation of devices, there wasn't a clear bridge between computers and cellphones. An alternative was to purchase a portable internet device. Portable Internet Devices "combine the portability of smartphones with the functionality of a PC" (Dannenfeldt). These devices function in between cellular technology and computer technology. They were lighter than a computer but had more power than a smartphone. These devices would be the parents of modern tablets (iPad mini and Samsung Galazy Note 3). These came in different forms, such as notebooks, tablets, and sliders (Tmobile Sidekick). At the time of this article, 2008, portable internet devices were faster and more reliable than cellular devices. People who needed to access emails and complete larger tasks that couldn't be done on a smartphone, would prefer one of these devices. Now, many people use smartphones and the newer smaller tablets as if they were computers. This technology is interesting because it provides a glimpse at how fast technology has advanced and is advancing.
What can WAP enabled devices do?
Wireless Application Protocol enables such services as mobile ticketing.  The user can purchase tickets to an event and choose to have the ticket sent via text or multimedia message. Phones that are WAP enabled can receive the message with the barcode, which can be scanned at the venue. (Roos). At the time this article was written, applications for mobile devices had not become as popular as they are now. Most smartphones have apps that allow the user to purchase and download the ticket all from the phone.
WAP also makes it possible for phones, such as the iPhone, to run preinstalled applications, such as iTunes. iTunes is a web application that was created/modified from the desktop version to run on Apple devices. WAP also enables the App Store to function on mobile devices. Apps allow users to do a variety of things, such as "track news, play games, help you finish your homework, plan and journal your workout routines, track work schedules and tasks, and find recipes" (Chandler). These advancements in mobile technology allow users "to perform almost all of the task's you'd use your iTunes [or any other program] desktop for." (Chandler).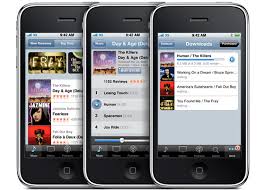 These days, users are accustomed to downloading apps and games onto their mobile devices, accessing the Internet, and checking emails. Behind all of these activities are several layers of technology.
According to Tyson's  "How WAP Works," here is what takes place when a mobile device with WAP enabled access a web site: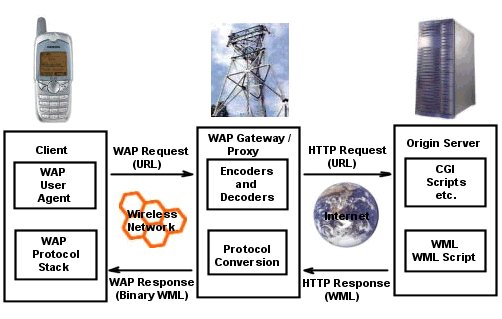 You turn on the device and open the minibrowser.
The device sends out a radio signal, searching for service.
A connection is made with your service provider.
You select a Web site that you wish to view.
A request is sent to a gateway server using WAP.
The gateway server retrieves the information via HTTP from the Web site.
The gateway server encodes the HTTP data as WML.
The WML-encoded data is sent to your device.
You see the wireless Internet version of the Web page you selected.
_________________________________________________________________________________
Asynchronous Learning Activity:
How much do you know about your mobile device? Test your knowledge: Cell Phone Quiz
__________________________________________________________________________________
Below are a couple of videos that provide a little more information about how WAP works?
[youtube=http://www.youtube.com/watch?v=Qxu__YtYvKE&w=420&h=315]
[youtube=http://www.youtube.com/watch?v=Q2d200LIvv4&w=560&h=315]
Works Cited
Chandler, Nathan.  "How iTunes Mobile Works"  09 March 2010.  HowStuffWorks.com. Discovery. Web.  21 January 2014.
Dannenfeldt, Diane.  "How Portable Internet Devices Work"  03 March 2008.  HowStuffWorks.com. Discovery. Web.  21 January 2014.
Dannenfeldt, Diane.  "How Google Maps for BlackBerry Devices Works"  03 July 2008.  HowStuffWorks.com. Discovery. Web.   21 January 2014.
Roos, Dave.  "How Mobile Ticketing Works"  26 June 2007.  HowStuffWorks.com. Discovery. Web. 21 January 2014.
Tyson, Jeff.  "How WAP Works"  07 November 2000.  HowStuffWorks.com. Discovery. Web. 21 January 2014.
Images
Guo Meng, W. "Cellular Network Layout." Digital Image. ES96T: Advanced Wireless Systems and Networks. Warwick. Web. 20 January 2014.
Lie, Robert "How WAP Works" Digital Image. Mobilefish. Web. 20 January 2014
Nita, Ilinca. "Apple working on radio app with iTunes support" Photograph. Unwiredview. Web. 20 January 2014.