For the last MindMap, were were to organize our MindMap by concepts. I started this process by listing all the theorists as a guide. After this process, I stopped because I realized that I do not have any concepts by which to group these theorists. So, I went with the things that come to mind when I think of this course: human agency, non-human agency, tracing, and hierarchy.
http://popplet.com/app/#/1626026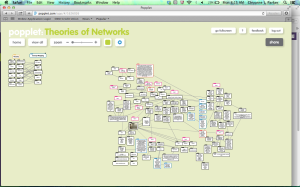 The biggest thing I've learned from doing the MindMap and the other blogs is that I learn the way I learn and it works for me. This has been the most challenging semester I've ever had in my entire life. Even more so than the semester in which I took 2 PhD level classes, my mom passed, and I taught 2 classes at 3 different schools. This entire semester I have been thinking: "There is something wrong with me. I should not be here. Apparently, I am not smart enough to get a PhD." It took dealing with the MindMap concepts for me to realize what lies at the heart of my issues is my learning style. I am not a visual learner. I have never been in my 30 years of living. I have no desire to be a visual learner, creating this MindMap did not help me to grapple with the concepts presented in the readings. It obfuscated them. Every week I had to push myself to figure out how to condense and connect the things I'd read in order to do the MindMap. I am linear. I like straight lines. I like lists. I like short/concise annotations or long lists with no complete sentences and no visuals. That is how I learn. I like privacy to try out new ideas. This approach, however closed off and inadequate it may seem to others, got me here. I did the MindMap because I had to do it. Do I understand it: No! Am I glad I did it: Yes! I am glad because now I know for certain what works for me and what doesn't. The processes (MindMap/ Visualize All the Things) felt like steeple chase from my days of track in high school.